The Creative Place Retreat is up-and-running, and there is beautiful and blessed creativity happening!  It's awesome to behold!!  We've received so many positive comments thus far, such as:
  "I had a wonderful time: the lighting was good, there was plenty of workspace, the group was fun, the beds were comfortable, the facility was wonderful!"
"Everything was wonderful.  Nice ironing areas, nice sleeping area, warm showers with good water pressure, love the benches at the end of beds for shoes, luggage purse, etc., and the lockers are nice!  Bright lights overhead, great in the sewing room!!!"
  "Had a great time at your wonderful facility!  Loved all the outlets and comfortable sewing chairs.  It's also nice to have the two sitting areas."    
"So much fun!  Love the space and the ambiance here is amazing – cozy yet accessible and perfectly furnished and decorated to induce the creative juices!"
  "It's wonderful to have Wi-Fi, and the kitchen is great!  There's plenty of room in the sewing area – with twenty-something of us sewing, there was still lots of space!"
Of course, we love hearing all the wonderful things our guests have to say about The Creative Place Retreat! We thank you from the bottom of our hearts!   We also ask our guests for constructive criticism because we want to provide the best retreat environment we possibly can so that your creativity can freely flow!  In addition to lots of positive strokes, we've received some wonderful suggestions, and we're doing our best to deliver.  Here are some things we've added to The Creative Place Retreat in response to the suggestions we've received:
Cubbies!!  A place for the next day's clothes, toiletries, towels, etc. so, when you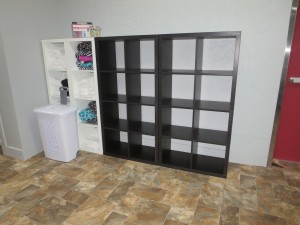 get up in the morning, you can grab your items on the way to the shower!  No more groping in the dark for the items you need!   Plus, we've numbered the hooks for your used towels!
Benches and chairs in the full baths!! Now, there are places to set your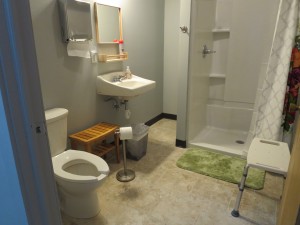 clothing, etc. and places to sit in the bathrooms, making dressing and preparing for your creative time even easier!
Paper towel dispensers in the full baths!!  Every guest will still have access to cloth hand towels and, we have added paper towel dispensers to the full baths (they already exist in the half-baths).  Options are great, aren't they?!?!?
We are committed to providing the very best creative retreat experience for our guests.  We welcome your constructive suggestions and comments!  Of course, not all suggestions can be implemented immediately, yet we appreciate and value your input, and we consider every submission.  We hope you and your friends will consider The Creative Place for the venue for your next creative retreat!  And, check out and consider joining the open retreats and workshops that are already scheduled for The Creative Place Retreat!
Wishing you a creative day!
Kelly