Let the Stars Shine! …A Quilting New Year's Eve Workshop / Retreat
12/31/17 (Sunday), noon - 2:00 pm (registration / check-in) - 1/3/18 (Wednesday), noon - 2:00 pm, pack and adjourn
Join Joyce Holley, a Studio 180 (Deb Tucker) Certified Instructor, for this wonderful "ring-in-the-New-Year-right" quilting event at The Creative Place!  Using Deb Tucker's Studio 180 V Block Tool and the pattern "New Year's Star" (how appropriate is that?!?), the participant will be guided through the basic steps for block construction then setting the blocks into a lap-size or larger quilt top.  Joyce will be present and at your disposal throughout the retreat to teach, guide, and assist!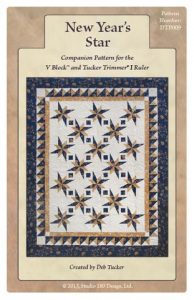 In addition to learning the technique, tips, and tricks for this delightful New Year's Star quilt, the participant will have the opportunity to work on other projects / UFOs and / or play with the New Year's Star top until completed!  Wouldn't it be great to start the New Year with one (or more) completed project?!
A.  Spend three nights / most of four days at The Creative Place   ($225 + $19.50 for tool and pattern)
OR
B. Spend three days (and perhaps into the night) then commute to/from your home ($130 + $19.50 for tool and pattern).
Both options include: Instruction for New Year's Star quilt, personal sewing area with use of adjustable chair,  plenty of light and electricity, ironing and cutting stations (bring your own rotary cutters and favorite rulers), fun, making new friends. While some food for meals will be supplied, you will be invited to bring a food item or items for one of the meals (sign up through Joyce).  Water, tea, coffee, and chocolate are provided, along with a New Year's Eve Countdown & Toast, prizes, a game or two, and a trip to local quilt shops, by foot and/or by car! Really, can you think of a better way to begin 2018?
For more information, contact Joyce Holley at 816-223-4454 / seakar52@sbcglobal.net