Free Motion Mastery JUMPSTART Class with Kelly Ashton
October 5, 2019  9:30 am - 4:30 pm with a lunch break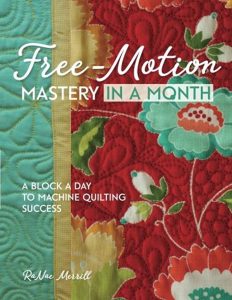 Do you want to learn to free-motion machine quilt?  Perhaps you've tried to learn, taken a class to two, yet the technique hasn't "stuck".  Let me introduce you to Free-Motion Mastery in a Month (FMM30)!
FMM30 was devised by my friend and fellow BERNINA Ambassador, RaNae Merrill.  Before becoming an author and national / international quilting instructor, RaNae was a concert pianist.  RaNae has fashioned FMM30 and learning to machine quilt after the way she approaches teaching piano to students:  development of muscle memory, mental mapping, and mastery of the instrument (in this case, the sewing machine!).  This method is BRILLIANT!!  So, brilliant, in fact, I approached RaNae about becoming a certified instructor for her FMM30 method!
Many of you know that I have taught machine quilting for decades, and I am predominantly self-taught.  Oh, how I wish I'd have had this logical, systematic method from which to learn free-motion machine quilting back when I was learning!!
Join me for a day as I introduce you to FMM30 and help you set the stage for logically and systematically – and enjoyably – moving yourself through the learning curve to free-motion mastery!  We'll talk fabric and thread, practice muscle memory and mental mapping, learn about your "instrument" (your machine), and spend some time putting needle and thread to fabric.  We'll go through everything you'll need to move yourself through the FMM30 process!
Instructor:  Kelly Ashton
Date:  Saturday, October 5, 2019
Time:  9:30am – 4:30 pm with a lunch break
LUNCH:  on your own. (There is a refrigerator in The Creative Place if you wish to "brown bag" OR The Bean (next door) has great lunch items OR there are other lunch options around town.
Location:  The Creative Place, 118 S. Main Street, Spring Hill, KS (less than 15 minutes from the I-35 and 151st Street exit in Olathe, KS).
Cost:  $60 (includes a kit of fabric and batting for the class exercises).  A $20 non-refundable deposit will secure your spot in class!
To register:  Send $20 non-refundable deposit to The Creative Place at the above address.  Please make check out to The Creative Place.  Write FMM30 in the memo line.
Questions:  Contact Kelly at creativeplaceretreats@gmail.com OR call 913-484-5496.
Supply List can be downloaded here.
The book, Free-Motion Mastery in a Month is required for the class.  It can be purchased from Kelly at the beginning of class for $27, tax included OR if you live in the area, you may purchase your book prior to class and arrange for pick-up.