Fabric Dyeing & Surface Design Fundamentals
Friday and Saturday, June 24 - 25, 2022; 9:30 - 4:30 for class each day.  Friday evening trunk show (time TBD)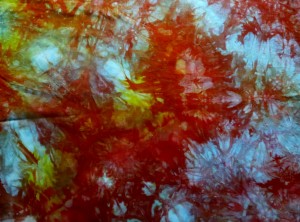 Join Cat Nix and Kelly Ashton for two days of fabric fun while learning the fundamentals of Fabric Dyeing and Surface Design!  We will explore a variety of techniques, including (but not limited to!) gradation dyeing, layered multi-colored dyeing, and ice dyeing!  This class is the PREREQUISITE to future dyeing / surface design classes that will be held at The Creative Place.
Included in the class fee for each participant is 7 yards of fabric, dyes, gloves, mask, and more!  In addition to these items, you'll find a supply list here.
The class fee includes two days of instruction, 7 yards of fabric plus the dyes / dye chemicals, baggies, gloves, mask, handout.
If you wish to add overnight stay at The Creative Place, the additional fee is $35 / night (Thursday, Friday, and / or Saturday night surrounding the workshop).
Class size is limited.  $50 no-refundable deposit is required to hold your spot!