Catherine Redford: Exploration of Folk Art Style Hand Stitching (5/20-22/2019)
Monday - Wednesday, May 20-22, 2019 Monday, doors open at 9:30am with class from 10am - 5pm with a lunch break. Tuesday, class from 9am - 5pm with lunch break from noon - 2pm.  Wednesday, class from 9am - 4pm with lunch break from noon - 1pm.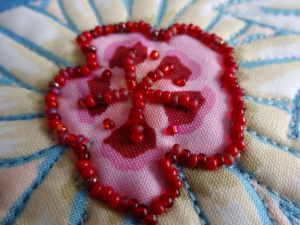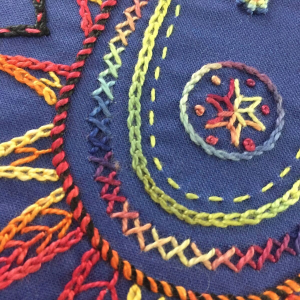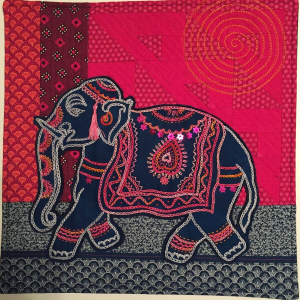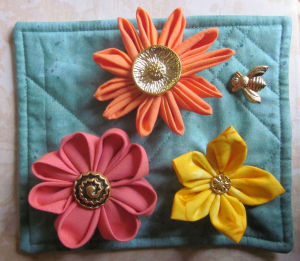 Exploration of Folk Art Style Hand Stitching:  Hand embroidery and stitching on fabric with Catherine Redford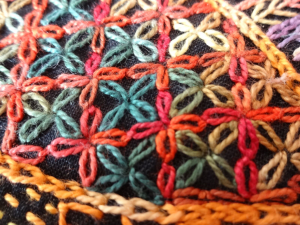 From Catherine:
"Whether you are  a seasoned stitcher or just looking to try something new, there will be something for                                                    you in this exploration of my favorite hand-stitching techniques.
Day One will begin with an overview of the subjects to be covered and some hand-stitching basics on the topics of thread, needles, and fabrics.  There will be choices to be made so that each class member can work on a project as unique as they are.
We'll continue with a lesson on my favorite embroidery stitches, which can be practiced on your selected motif.
On Day Two we'll try adding some embellishments.  If you want to add beads, we'll make sure they are stitched securely.  Beaded edge treatments are always fun.  Then we will begin to think about a background for our embroidery.
Day Three, I'll demonstrate dimensional yo=yos and kanzashi flowers.  We'll try a little English Paper Piecing, too!
We will work out how to put it all together and learn about my bold hand-stitching ideas for quilting.  You'll go home with a piece in progress and a whole slew of ideas for the future.  I love my hand-stitching, and I want all my students to be inspired in our fun-filled, action-packed time together!"
DATES / TIMES:  Monday – Wednesday, May 20-22, 2019.  Monday, 10:00 am – 5 pm (Doors will open by 9:30 and there will be a lunch break); Tuesday, 9:00 am – noon and 2:00 – 5:00 pm; Wednesday, 9:00 – noon and 1:00 – 4:00pm.
WORKSHOP FEE: (does not include meals or overnight accommodations)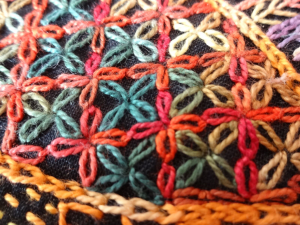 $225 / person PLUS materials fee (see below)  
Space is limited.  A $50 deposit will secure your spot (mail check made out to The Creative Place to 118 S. Main Street, Spring Hill, KS  66083  OR  call 913-484-5496 with a Credit Card or Debit Card number.  $25 of the deposit will be refunded if registration cancelled ON OR BEFORE April 29, 2019.  NO REFUND AFTER 4/29/19.                               
Add two overnights at The Creative Place (Monday and Tuesday, May 20 & 21, 2019) for the special price of $110 for both nights.
Meals are on your own for both commuters and overnighters.  There is a full kitchen for your use at The Creative Place.  The Bean Coffee Company                    is right next door, serving breakfast and lunch options plus coffees, teas, and other beverages.  You are welcome to "brown bag", if you wish.
MATERIALS FEE:  $35 / person for fabrics, threads, needles, embellishments to be used in class.
HOMEWORK:  Find a motif or design you would like to make into a small hand-stitched piece e.g. animal, flower, paisley….Resize to fit an 8″ square and bring as a black & white copy OR select from designs that Catherine will bring inspired by nature and traditional folk art.
SUPPLY LIST:  sharp scissors, notebook, pen / pencil, pins, rotary cutter, mat, and ruler, black fine line marker, small scissors (thimble and hoop are optional). You are welcome to bring any special fabrics, threads, and embellishments you already have but there will be plenty to choose from in class!