Applique' is Painting With Fabric: Beginning Needle-turn Applique' Workshop / Retreat with Kathy Delaney
October 12 - 14 (Friday - Sunday), 2018 See details on the Workshop page.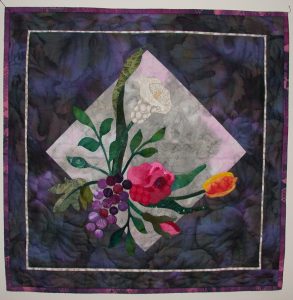 Come spend the weekend at The Creative Place with me, Kathy Delaney, and explore the wonders of needle-turn applique'!  We will be "painting with fabric" as we explore the variety of techniques employed to stitch my pattern, Garden Bounty.  Though anyone who loves needle-turn applique' is welcome to join in, this workshop / retreat is especially designed for beginner and novice applique' students.
Here's how the weekend will be structured:  Arrive as early as 10am on Friday, October 12, 2018 allowing you to do your own thing (handwork or machine stitching – bring your own machine) for the day.  The workshop instruction will get underway at 6pm so those who are working on Friday won't miss anything!  We'll spend Friday evening, all day Saturday, and until about 2pm on Sunday working on Garden Bounty.  (If all who register are able to arrive earlier in the day on Friday, we'll begin instruction earlier!)  I will be staying at The Creative Place, so I will be available to assist and answer questions all weekend!
Meals are "on our own".  There is a full kitchen at The Creative Place, so feel free to bring food, if you wish.  There are also several restaurant options in Spring Hill, including The Bean Coffee Company right next door (offering beverages and some breakfast and lunch food options).  We may wish to go out as a group for at least one evening meal.  There is also a grocery store fairly close to TCP if you don't wish to schlep food with you!
The supply list for the weekend is here:  Applique is Painting with fabric workshop supply list
The cost for the workshop / retreat is $295 for overnighters; $230 for "day trippers".
If you have any questions, you may contact me at Kathy@kathydelaney.com
Hope to see you in October!!