Tuffet Class: Pieced 18″ Tuffet
Two sessions (must attend both):  Fridays, August 25 and September 22, 2017, 5:30 - 10:00 pm. Cost:  $195.00 per person (includes instruction, pattern, tuffet kit with feet, and more)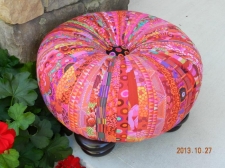 (Image from Tuffet Source website.)
Tuffets are all the rage, and why not?  They're adorable and functional!  In this two-session class, Kelly will guide you through the steps to create your own Tuffet!  The class fee includes: instruction, pattern, tuffet kit (including basic feet), and more.  You will supply the fabric and the remaining items listed on the Supply List.  The downloadable Supply List will be available soon.
The two sessions of the class are 4 weeks apart, allowing ample time to complete the necessary homework between the sessions.
Let's make some Tuffets!!