Dyeing in the Parking Lot
Saturday, August 12, 2017; 9:00 am - 4:00 pm.  In spite of the class title, most work will be done indoors (with air-conditioning)! :)
Workshop Overview
Kelly Ashton loves fabric, and as much as she loves to purchase fabric in her favorite quilt shops (believe me, she does!……and, she has the stash to prove it!!!), she also loves creating beautiful, unique, hand-dyed fabrics! In this workshop, Kelly will teach the participants about the fundamental ingredients used in small-batch dyeing, then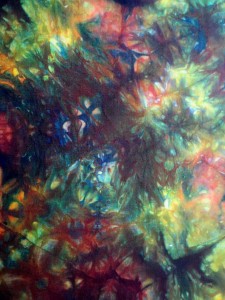 she will lead the group through dyeing monochromatic and color-to-color gradations, and two multi-color dyeing techniques. Each participant will leave with 6 yards of hand-dyed fabric as part of the course fee. Additional dyeing kits will be available to purchase. Be aware: dyeing fabric may become habit-forming!!
This workshop is all-day Saturday, 8/12/2017.  All dyes, fixatives, and basic supplies are included in the price. 
The student supply list is available here.
Lunch:  on your own.  You may bring a lunch or there are several lunch options available in town.